Email marketing is so often thought of as just a newsletter. Another monthly or bi-weekly news blast that often gets ignored by subscribers and feels like a futile exercise at best. Nothing could be further from the truth. Email marketing can be used for so much more than just a vanilla monthly newsletter.
From building hype for and managing events to highly trackable internal communication systems, to promoting your offers during the upcoming retail season, email can facilitate all of this and more.
So let's take a closer look at some of the more creative ways you could use your email environment.
Eventful
With the arrival of COVID in 2020, the world changed and we all had to adopt a more remote approach to business. This had a noticeable impact on every industry in the world, and industries that relied on physical events felt this too.
This presented a stark and almost immediate shift to virtual events and webinars. And while this new approach has been adopted fairly well, email became a crucial part of this process. Several of our clients, The JSE included, use our platform to facilitate their events.
While historically we've always used email to build hype for upcoming events and track attendance, email became even more entrenched in this process. Email systems are often integrated with webinar platforms to facilitate automated invites and reminders. More than that, email is a fantastic tool to get invaluable post-event insight and feedback.
While we have slowly started making our way back to a hybrid of virtual/remote working alongside returning to a physical presence in the workplace, it's clear that email is always going to form part of this process for years to come.
Internal Comms
When most people think of email marketing, they think of companies using email to increase purchases from their client base. And while a fantastic email system and strategy can achieve this goal, many people often overlook something a little closer to home.
Our platform can facilitate brilliant internal communications. We have clients such as Cell C, that use our platform to keep employees aware of important developments in the company, deliver engaging news articles and content of a more lighthearted nature to put a smile on their team's faces.
We also have clients, like NMG Benefits, that use our platform to facilitate a seamless onboarding process for new employees. By using TouchBasePro, they can provide new employees with important information in a staggered and easy to retain manner. What's more important, is that they can track exactly which employees are engaging with this content, to make sure that nothing is overlooked.
Our automation tools also make it easy to celebrate important milestones, such as birthdays, work anniversaries and holidays. What's more, our personalisation tools can help you tailor all of these comms to each unique employee on your team.
Quite simply put, engaging and sharing useful information with your team, while actively monitoring their engagement with your comms, has never been easier.
Sales, Sales, Sales
At the end of the day, utilizing an email system that isn't giving you returns on your investment, is quite frankly a waste of time. While certain benefits like employee satisfaction and consumer oversight are a little harder to quantify, there's a metric that we can always rely on to show just how well email works, ROI.
If we can directly correlate product and services revenue to your email system, it makes using us an easy choice.
Let's take Novo Mundo XL, for example, a small travel agency that we work with. Historically, they didn't do much in the way of digital marketing, instead preferring to market in their local paper and extend offers to their established network. After 1 month of utilizing our platform and strategic insight, they immediately saw a stark rise in bookings, and we've kept that momentum with them ever since.
That's not to mention our clients in the e-commerce space, such as Guess, Aldo and more, who utilize our platform to build hype for online sales and facilitate online purchases and unique customer experiences. With the busiest period of the retail season fast approaching, email is a part of your digital strategy that simply can't be overlooked.
We also use our advanced automation tools for sales teams. Bu creating a unique and in-depth automated customer journey that's tailored to your customer lifecycle, we save sales teams massive amounts of time and effort by facilitating automated customer check-ins, follow-ups and value adds. All we need is for your team to add a prospect to the journey, our strategy, platform and team will do the rest.
Take a look at the below campaign that we put together for Novo Mundo if you'd like to see how we utilise our knowledge of email best practices to achieve amazing results.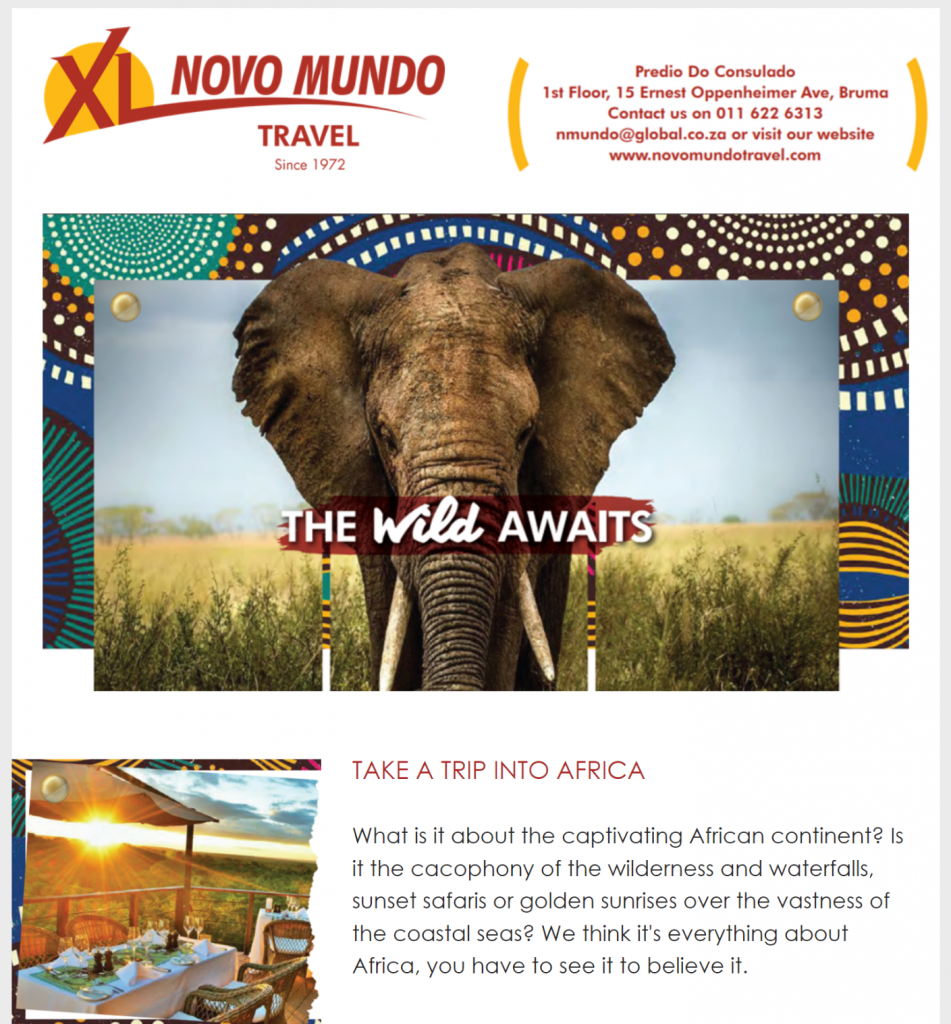 Conclusion
These are just some of the ways your email service provider can be more than just a delivery tool for a monthly news blast.
By utilising our unique and advanced feature set, alongside our team's strategic insight and expertise, there's no limit to what we can achieve together.
So here's to doing things differently, here's to being unique, here's to reaching for the stars, and here's to doing it together!
TouchBasePro + You = Endless Possibilities