What is a welcome email?
Your onboarding emails are a fantastic strategy to make an excellent first impression on new email subscribers. They are the first piece of communication you send to a prospect or new customer after they agree to receive emails from your brand This helps to establish a long-term relationship while simultaneously advancing prospects along the buyer's journey. They are especially useful for thanking the subscriber and confirming to them that you are aware of their recent subscription. Most importantly though, subscribers anticipate seeing welcome emails in their inbox because they usually contain the incentive promised to them upon signup or some form of an appealing call to action (CTA). As a result, welcome emails enjoy higher open rates than other types of emails. According to conversion rates specialists, Invesp, they have an average of 50% open rate, which is 86% more effective than traditional or generic newsletters.
If you want to boost your email metrics, there is no better way to start than sending that welcome email. Apart from the fact that creating automated welcome emails will save you time, they are crucial for your marketing campaign. When done correctly, they can increase subscriber engagement rates with your brand, increase your subscriber database list and generate more opens and clicks through rates than regular emails.
An email as important as this one shouldn't be left up to chance. So, to illustrate just how easy it is to create compelling welcome emails, I subscribed to a few brands to showcase their welcome email journeys and to outline a few strategies for creating and improving your welcome email.
Send it immediately
Good welcome emails must be sent as soon as possible. In fact, 74% of subscribers anticipate receiving a welcome email as soon as they sign up. Considering that this is already an expectation, you would do best by making the most of this opportunity and send out a timely welcome email, assuring subscribers of a successful sign-up while also kicking off a great conversation.  Consider the following: Within 24 hours of signing up, 45 % of subscribers make their first purchase!
Compelling subject line
Your entire email can make an impression, but the tone is set by the subject line. When deciding whether to open an email, subscribers look at the subject line first.
Most importantly, your subject line should make it clear what subscribers are signing up for.  This email from Pick n Pay Online, says, "Welcome to the Pick n Pay Online Family!"  With Pick n Pay, you're not just a subscriber. You're becoming part of a family, and they make that really clear from the very first email.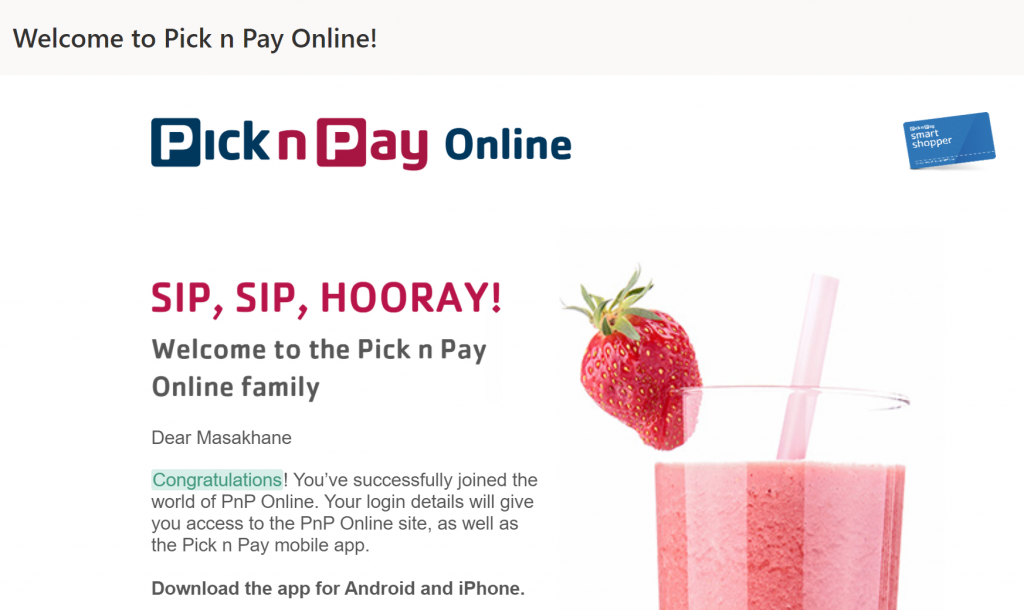 It's not what you say, it's how you say it
There's an undeniable charming tone in this beautifully designed Casper's welcome email. Perfectly matched night colours and sleepy language creates a relaxing aura around the brand. It includes a detailed breakdown of their product offering, using witty puns and wordplay. This welcome email conveys a lot of information while still highlighting Casper's distinct personality. "Let's get sleepy" is a sidesplitting CTA (Call To Action) that aligns with the copy and subtly implies some form of action.

Personalisation is queen
Personalised welcome emails can help distinguish your welcome emails from the rest. They make the subscriber feel a little more human, and a little bit less robotic. A personalised email helps drive ongoing interest by providing bespoke introductory offers on products that consumers may be interested in based on the information they've provided when they signed up or data available on online platforms.
Virgin Active asked a few fitness goals questions in their subscription form and ingeniously used that data to send this hyper-personalised email upon signing up. Very smart!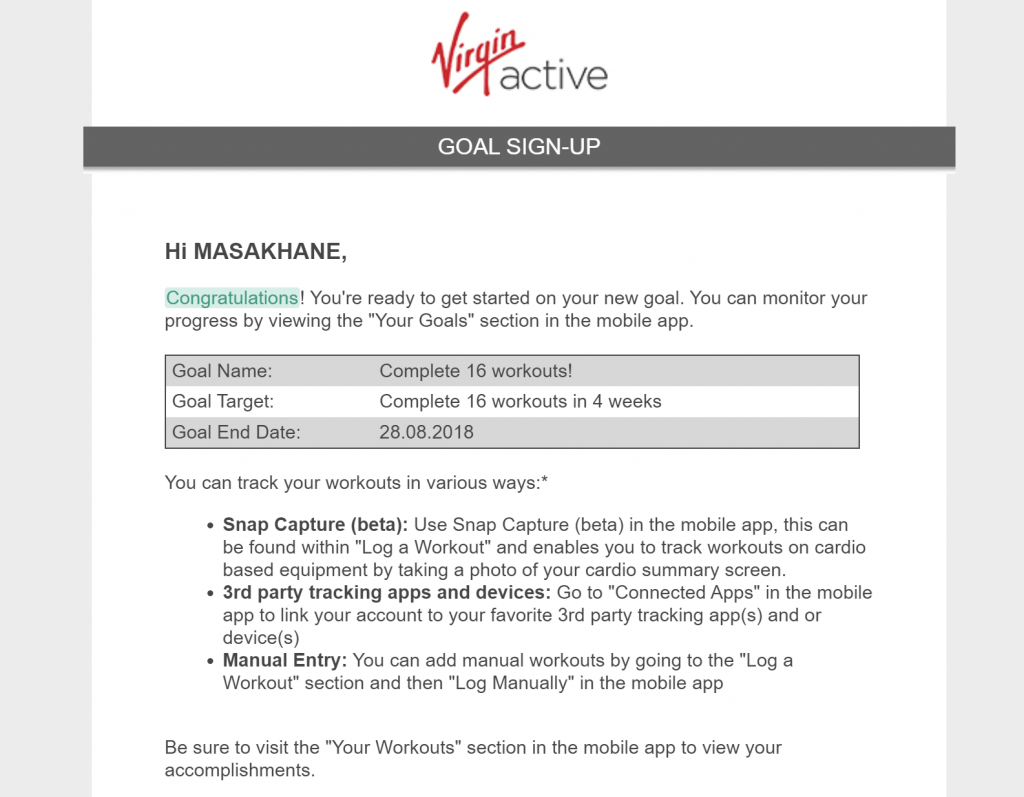 Tell your story
Another effective welcome email strategy is to emphasize your company's service delivery promise and values. People are increasingly purchasing from brands that share their values, so emphasizing yours is advantageous because it relates to humanisation.
In its welcome email, Wrapistry prominently displays its CEO and CFO, Jed Shein.  To emphasize the humanisation aspect, the from email address appears to be that of the CEO, as if to imply that he personally penned down this email, especially for you (which he didn't, of course), but it serves its purpose of conveying a personal message that shows the passion and motivation behind the company's existence. Subscribers leave this welcome email knowing a little bit more about the company and the people behind it.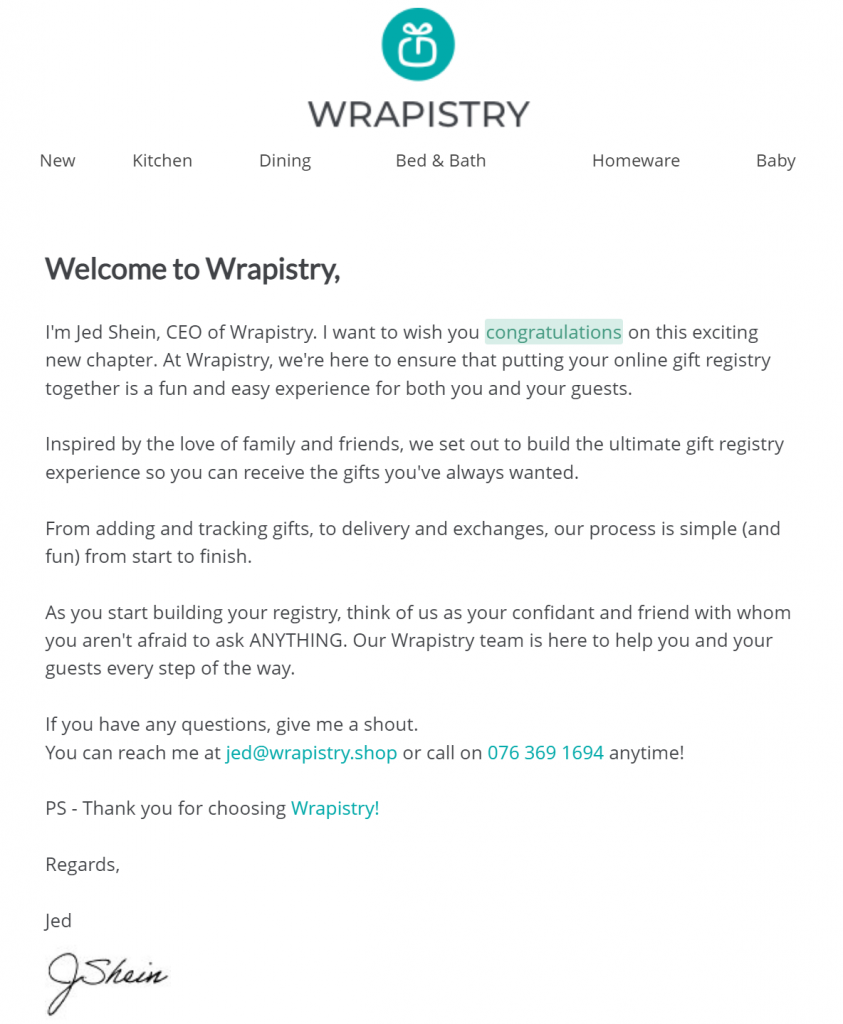 Give me what I want
Including incentives such as special promotions for new users or access to exclusive content can help to increase subscriber numbers significantly. If you do offer an incentive, however, make sure you follow through on it.
The offer "Your free Uber ride is waiting" is impossible to miss.  Following it up with a brief explanation of what the incentive entails and finishing it off with a call-to-action (CTA) that assists the subscriber in redeeming the reward makes it so simple. So simple, in fact, that there's no reason not to take them up on their offer.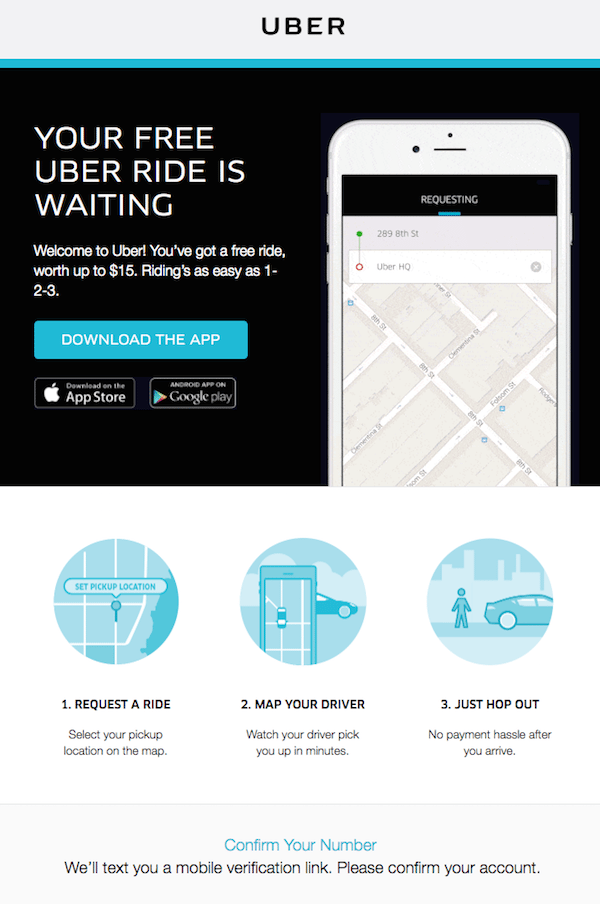 The bottom line is
If you do not currently send out welcome mailers to new subscribers, start sending them out as soon as possible. You're passing up an opportunity to make a good first impression and potentially, increasing your revenue stream. A welcome journey is a great solution if you already have a welcome email but want to deliver more content early on. Take advantage of this opportunity to create compelling content that will lay the groundwork for long-term subscriber relationships.
If you need any assistance creating welcome emails or journeys, get in touch and we'd be happy to help!